Books by Dr. Laurel Parnell
A Therapist's Guide to EMDR
Tools and Techniques for Successful Treatment
Preface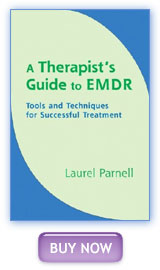 Since my training in 1991, I have been immersed in EMDR, using it extensively in my clinical practice, providing consultation, and training thousands of therapists in the US and internationally. I felt a desire to write a book that allowed me to share my knowledge with a wider audience. The purpose of this book is to help EMDR-trained therapists be able to use EMDR skillfully and successfully with a range of clients.
Like many of us who have been using for EMDR for years, I continue to have a passion for the work. Coming from a background that was primarily psychodynamic, I have found ways to integrate EMDR into a psychodynamically-informed approach. Although I was trained by Francine Shapiro and the EMDR Institute in 1991, I have worked independently since 1995 under the auspices of the EMDR International Association. Therapists who are trained by me learn to integrate EMDR into a broader treatment approach that honors the therapeutic relationship, finding ways EMDR can be modified to fit the client, rather than forcing the client into a rigid technical mold. And, having practiced meditation for over 32 years, I bring a transpersonal approach to the work emphasizing non-judgmental listening, attunement, and presence. I believe that using EMDR is an art, requiring flexibility, creativity and the use of intuition.
From my teaching and consultation work, I have found four areas where most EMDR-trained therapists need help: case formulation, ego strengthening, target development and working with processing difficulties. Since 1999 I have taught an advanced EMDR workshop that focuses on these areas. Material from my trainings as well as these workshops is included in this book. I wanted to write a book that would review the basic information from the training but then add onto that foundation with new information. Too often therapists leave the EMDR training enthusiastic, desiring to use it in their practices, but then lose their nerve when they come upon a difficulty with a client. My hope is that this book can support you in your work, providing you with practical information. If you have a problem, look it up in the Table of Contents or Index. Hopefully you will find something that will be of use to you.
The book reviews the theoretical basis for EMDR and new information on the neurobiology of trauma. It provides a detailed explanation of the procedural steps along with helpful suggestions and modifications. Areas essential to successful utilization of EMDR are emphasized. These include: case conceptualization, preparation for EMDR trauma processing including resource development and installation, target development, and methods for unblocking blocked processing including the creative use of interweaves, and session closure. Case examples are used throughout to illustrate concepts. The emphasis in this book is on clinical usefulness, not research. In A Therapist's Guide to EMDR, you will be able to find helpful suggestions in simple, easy to understand language.
A Therapist's Guide to EMDR is meant to supplement, Shapiro's basic EMDR text, Eye Movement Desensitization and Reprocessing (2001). This book builds on Shapiro's text, providing information that is accessible and easy to use. It breaks down the steps to using EMDR in a way that is clear and understandable. I have included illustrative case material throughout the book that I hope helps makes the work come alive. From my teaching experience, I believe that the stories and vignettes will help you to remember the points I am trying to teach. From the case examples you will be able to see what I was thinking and why I did what I did. This book does not include a thorough review of the literature. For that information please refer to Shapiro's text (2001). It also does not go into all of the technical detail contained in her book. This book is for EMDR-trained therapists who want to know more about how to integrate EMDR into their psychotherapy practices. It is a practical book that gives valuable information that clinicians can use immediately. It will help therapists trained in EMDR weave this treatment into their practices and serve as a bridge between the training and the use of EMDR in clinical practice. This book is not intended as a substitute for training in EMDR. In order to use EMDR in clinical practice one must complete training with an EMDRIA-approved instructor.
I have written two other EMDR books, Transforming Trauma: EMDR (1997) and EMDR in the Treatment of Adults Abused as Children (1999). The first book was meant to introduce EMDR to the general public, while the second, like A Therapist's Guide to EMDR was written for EMDR-trained therapists, but focused on treatment of adult abuse survivors. A Therapist's Guide to EMDR shares some of the material found in EMDR in the Treatment of Adults Abused as Children, but I have expanded some areas, added new information, and included tools and techniques for working with a range of clients.
This book was written for therapists newly trained in EMDR as well as the old timers. There is something for everyone. I have collected tools, techniques, and tips from conferences, workshops, consultation with colleagues, and from my own clinical experience. You can read it from beginning to end, or use it as a reference when you want information on a particular area.
EMDR is constantly evolving. We learn from one another, sharing our successes, learning from our mistakes and EMDR grows. Each of us who uses EMDR uses it in our own way. Just as our clients have their own unique processing styles, we as therapists have our own way of integrating and using EMDR in our practices. This is exciting, cutting edge work. I continue to feel awed by the power of it to transform lives and am deeply grateful for the privilege of being part of the evolution and development of this wonderful therapeutic method.